Contributing Artists
Bill Arnio
Ortiz Acosta
Richard Beau Lieu
Beau Lieu Website
Liela Boås
Linda Dudak
DXTR
Ted Fawcett
Bill Grossett
Kathleen Henner
More Henner
Richard Johnson
Helen Kelsey
Charlie McCann
Lois Niesen
N.A.R.P. Grant Children
Neighborhood Children
Laura Paboojian
Linda Sage
Edward Schlatmann
Stan Sternbach
Stan Sternbach (photo)
Pat Stone
Jeff Thomasson
Joan Gersh Zalenski
PAST NEWS ISSUES
December 2003
January 2001
December 2000
August 2000
June 2000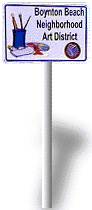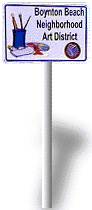 ---
Palm Beach Post
January, 2001
ART & SOUL
Soaring to new heights
By Sue Kovach
First Sunday Edition
January 2001, The Palm Beach Post, Soaring to new heights by Sue Kovach. Rick Beau Lieu, 53, was born into a family of metalworkers in the tool and die business. But unlike the four generations preceding him,he was the first to take the skill to artistic heights---Literally. Beau Lieu is best known for his monumental metal sculptures, including Florida's largest outdoor sculpture, a 40-foot, 7-ton piece called Liberty. Creating sculpture is only part of Beau Lieu artistic life.He spends time in art education working with children and has received awards for that involvement. But his pet project is the Neighborhood Gallery, an art gallery that is literally a neighborhood, the once-rundown West Industrial Avenue area of Boynton Beach where his studio (and Liberty) is located.
Beau Lieu and others cleaned up the trash, installed fences, planted trees,and lined the streets with original paintings and sculptures. The neighborhood has recently been designated The Art District of Boynton Beach.
"I've been an artist for most of my life, and it's been very good," Beau Lieu reflects. For those just beginning to follow their creative muse, he notes that all budding artists have to pay their dues. You may encounter struggles, and you may be tempted to sit and wait for things to turn around. But creating the work can be its own reward." If you don't know what to do, just do what's in front of you," he advises.