As you wind your way along tour path 5 enjoy the fun themes and variety of work on permanent and temporary exhibit. Click on the link at the bottom of this page to continue viewing more work. And, please leave a generous tip when you order coffee at the 'Patisserie'!
---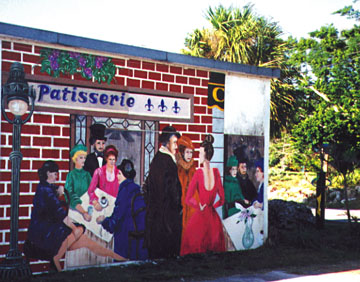 Above: 'Patisserie', a wall mural by Linda Sage
---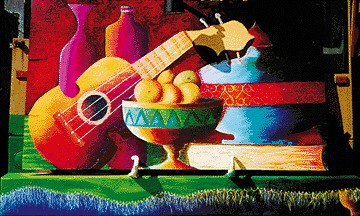 Above: 'Still Life' by Ortiz Acosta
---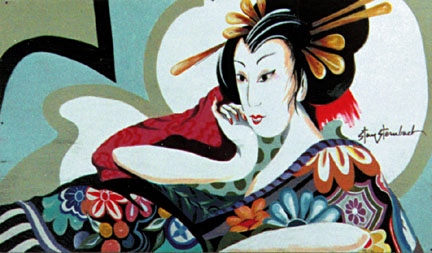 Above: 'Asia' by Stan Sternback
Below: 'Big Top Clown' by Stan Sternback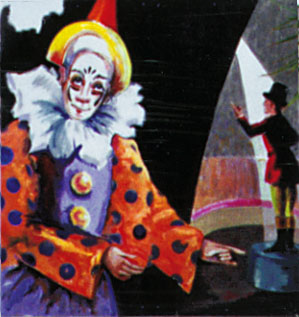 ---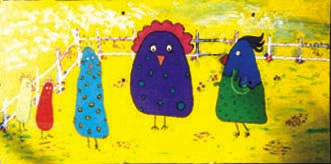 Above; 'Barnyard Conversations' by Lois Niesen
---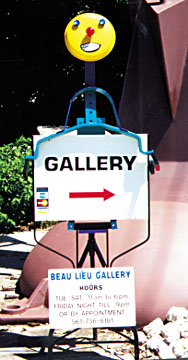 Above: Click on the Neighborhood Gallery sign to help guide your way!
---
Click Here to continue the VIRTUAL GALLERY TOUR
Back to Top
Email: beaulieustudios@aol.com
Neighborhood Gallery
422 West Industrial Avenue
Boynton Beach, Florida 33426
Please call for hours and directions.
Phone 561-736-8181
©2000 - 2001 Neighborhood Gallery