Contributing Artists
Bill Arnio
Ortiz Acosta
Richard Beau Lieu
Beau Lieu Website
Liela Boås
Linda Dudak
DXTR
Ted Fawcett
Bill Grossett
Kathleen Henner
More Henner
Richard Johnson
Helen Kelsey
Charlie McCann
Lois Niesen
N.A.R.P. Grant Children
Neighborhood Children
Laura Paboojian
Linda Sage
Edward Schlatmann
Stan Sternbach
Stan Sternbach (photo)
Pat Stone
Jeff Thomasson
Joan Gersh Zalenski
PAST NEWS ISSUES
December 2003
January 2001
December 2000
August 2000
June 2000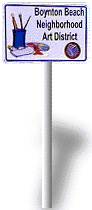 ---
Sun-Sentinel
December, 2000
Creative zone
Boynton Beach
designates new art
district that has
transformed West
Industrial Avenue.
By Linda Reeves
Special to the Sun-Sentinel
Boynton Beach- It was no more than a dumping ground for discarded tires, old sofas and rusted machinery. Today, the three-block stretch running along the train tracks on West Industrial Avenue has been transformed into an outdoor sculpture and painting garden stamped with the city's seal of approval.
Take a drive north on West Industrial Avenue just west of Interstate 95. The same drab garage bays, warehouse spaces and parking lots are there, as they have been for decades.
But now, they are surrounded by sea grapes, pink bougainvillea and palm trees.
More than 60 sculptures and outdoor paintings in an array of shapes, colors and sizes are scattered throughout the stretch.
Recently, the area was designated by the city as Boynton Beach's new art district. And earlier this month, a city road crew marked the avenue at the intersection of Boynton Beach Boulevard with an official signpost, Boynton Beach Neighborhood Art District. There is also an inside gallery packed full of colorful paintings and sculpture from an array of artist.
---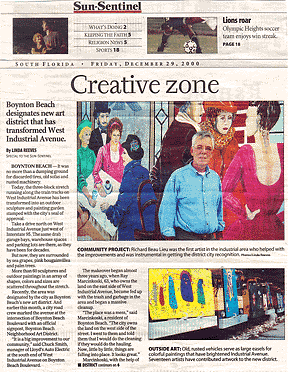 "The district is a good addition to Boynton,"said Diana Johnson, president of the Greater Boynton Beach Chamber of Commerce." We would like to help host some events there in the future."
The site is brightly lighted at night. Visitors are encouraged to drive by and take a look. The indoor gallery, at 422 W. Industrial Avenue, is open 11a.m.to 6p.m.Tuesday through Saturday and 11a.m. to 9p.m. Fridays.