Thank you for choosing to attend the Neighborhood Gallery virtual tour. Please follow the decorative signs and stay on the trail. Scroll down to see more art and continue your tour by clicking the link at the bottom of each page. You can also click on the artists name in the left column of each page to view their individual styled work.
---
Below: Neighborhood Gallery signs mark the trail for your convenience


---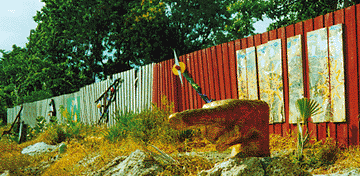 Above: View of the outdoor gallery with 'Large Pointing Hand'
by Bill Grossett in the foreground.


Above: Another view of the outdoor gallery.
Left; Reflections of the City by Richard Beau Lieu
Center; Global Retreat by Ted Fawcett
Right; Mother and Child by Richard Beau Lieu
---
Below: 'Barnyard Conversation' by Lois Niesen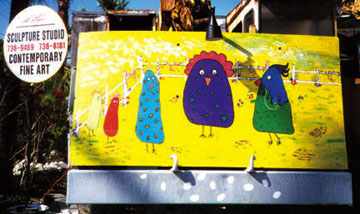 ---
Click Here to continue the VIRTUAL GALLERY TOUR!
Back to Top

Email: beaulieustudios@aol.com
Neighborhood Gallery
422 West Industrial Avenue
Boynton Beach, Florida 33426
Please call for hours and directions.
Phone 561-736-8181
©2000 - 2001 Neighborhood Gallery