Contributing Artists
Bill Arnio
Ortiz Acosta
Richard Beau Lieu
Beau Lieu Website
Liela Boås
Linda Dudak
DXTR
Ted Fawcett
Bill Grossett
Kathleen Henner
More Henner
Richard Johnson
Helen Kelsey
Charlie McCann
Lois Niesen
N.A.R.P. Grant Children
Neighborhood Children
Laura Paboojian
Linda Sage
Edward Schlatmann
Stan Sternbach
Stan Sternbach (photo)
Pat Stone
Jeff Thomasson
Joan Gersh Zalenski
Special Thanks to:
Jim Edward
Norman Kahant
Raymond Marcinkoski
Sid Morgan
PAST NEWS ISSUES
December 2003
January 2001
December 2000
August 2000
June 2000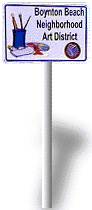 Neighborhood Gallery -
Early On

Before there was art, there was a mess.
Richard Beau Lieu has been an artist most of his life but back in 1986 he was also a single parent of two teenage daughters. His family lived in South Florida. At that time Rick, who had a large studio in Delray Beach, decided it might be more cost effective to find a reasonably priced studio in an older neighborhood. It was then that he found a studio in Boynton Beach.
For years he built, exhibited and sold sculpture in galleries throughout the United States. As the popularity of Beau Lieu sculpture grew, he began to turn his attention toward improving the area where he worked and created. Back in l986, the street that his studio is located on, was dotted with automobile work shops. Rubbish lined the roadside. He dreamed how wonderful this location would be if there could be an effort to clean it up.
An artist's dream becomes reality.
The people in his neighborhood were naturally interested in Beau Lieu and his exciting creations although, back then, they knew little about his art. Beau Lieu proposed a clean up effort to beautify the area and in the years that followed, his neighbors became great supporters, followers and patrons as well. Initially, he recruited the help of fellow artists and neighbors. The project slowly developed into a news worthy art happening and the Neighborhood Gallery was given it's name.
Artists and community unite.
The Neighborhood Gallery of Boynton Beach is a circle of artists who care about the community are concerned with the environment and have a strong desire to bring art to the public in a less than privileged area.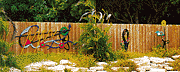 What started as a clean-up effort evolved into a community project for the masses. The art has won back the neighborhood and given the neighbors a sense of pride about where they live.
Neighborhood Gallery - described
Beau Lieu paints a mental picture for us. "You turn onto the main drag, West Industrial Avenue and immediately start to see large metal sculptures," he says. "One with a large gear, on the opposite side of the street a 10 foot unicycle. Then a 2,500 lb.marble totem, a ten foot kinetic sculpture as well as 3 corten steel pieces."
"There are paintings on plywood panels, wall sculptures mounted on fences and a cactus made out of bumpers.", he explains describing the landscape. "A 700 lb. hand points into the studio parking lot with several paintings on burlap, metal abstract sculptures and more. Eight large paintings are mounted on the front of grading machines"
There is a shade tree that has become a home to children's paintings. The front of the building is dotted with abstract sculptures and additional children's paintings.

Grant awarded and put to use
In 1998 Beau Lieu received a N.A.R.P. Grant (Neighborhood Artist Residency Program) from the Palm Beach County Council of the Arts. Some of the work created by Beau Lieu and his troop of children, ranging in ages from 4 to 13, are also on display in the outdoor gallery.

Neighborhood Gallery is an outdoor free exhibit without walls. God is the watchman over the well-lighted display. The gallery has the support, hard work and patronage of people of vision. It has become a community attraction and is enjoyed by many visitors every day. A street runs directly through the outdoor gallery so it is seen by many passing by. It has actually slowed the traffic speed down!

More than a gallery
With a clean environment and good lighting people now feel comfortable walking the street after dark. They stroll along to admire the paintings and sculptures which dot the colorful landscape. The gallery is now a viable part of the community. What began as a neighborhood clean up has turned into an incredible art happening.
With a website and an indoor viewing gallery as well, Neighborhood Gallery of Boynton Beach sells fine art from many artists of national and international reputation. And, Neighborhood Gallery acts as a head start program for artist at the beginning of there career.
Artists and patrons can join.
We encourage artists everywhere to use our model and exploit the concept we have developed successfully. By duplicating our example you too can develop your own Neighborhood Gallery and join us in our campaign to build community pride.
The Neighborhood Gallery concept of community evolvement is adaptable to any and all communities. As the curator of the gallery, Beau Lieu would be excited to pass on information to any interested parties.
We are excepting work from artists and art collectors. Contributions are gladly accepted as well.
Also, we can now arrange for the purchase of art by patrons. The work can be installed in our exhibit in the patrons name.
Join us - Contact us
Won't you join us? As artists ourselves we can share with you the satisfying reward that comes from having work where it effects the public. The bond of artists joined together in this effort has given a great lift to our community and our involvement with the children build relationships for the future.
Feel free to email Richard Beau Lieu at beaulieustudios@aol.com. Let him know your thoughts about the Neighborhood Gallery and his artwork. Ask Rick how you can take advantage of this remarkable opportunity to explore a similar program in your neighborhood!