As you continue your Neighborhood Gallery tour, keep in mind that new paintings and sculpture adorn outside and inside. Exhibitions are added every month.
Click on the images below for a larger view!
---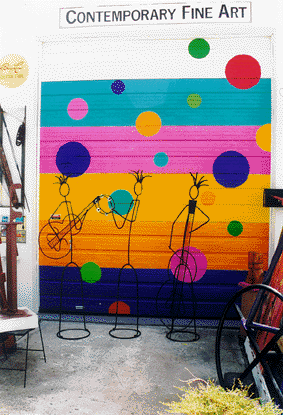 Contemporary Fine Art includes wire sculpture
and much more.

---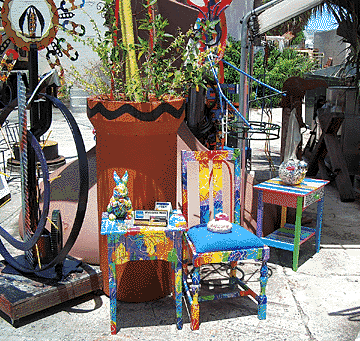 The courtyard of Neighborhood Gallery
has a host of interesting work
---



Circle Triangle 2 • Ellipse Circle Triangle 2
Tom Brewitz kinetic sculpture is represented with small indoor
sculpture (above) and large outdoor sculpture (below).
Click on the links and images to see enlarged views and MPG video.
---

Below: Guitars Players on the
Boca Beach by Davon Licata
---
Continue your VIRTUAL GALLERY TOUR!
See more of the Neighborhood Gallery.
Clicking this link here gets you the Next Page.
Please get in touch with us by phone or email if you have questions or comments.
Back to Top
Email: beaulieustudios@aol.com
Neighborhood Gallery
422 West Industrial Avenue
Boynton Beach, Florida 33426
Please call for hours and directions.
Phone 561-736-8181
©2000 - 2005 Neighborhood Gallery